Philip Crosby's Principles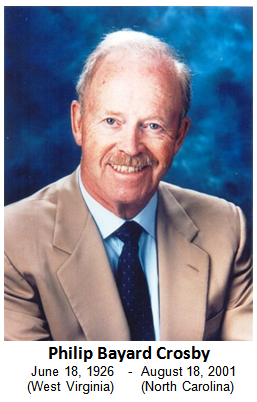 Philip B. Crosby dikenal akan kontribusi pemikirannya bagi manajemen kualitas yaitu Zero Defect dan Do It Right the First Time. Menurutnya kesalahan, kegagalan, pemborosan, dan penundaan waktu, bisa dihilangkan. Hasil pemikirannya tersebut terangkum dalam beberapa dalil-dalil manajemen kualitas yang kita kenal sampai dengan saat ini.
Crosby's Basic Principles:
Doing It Right the First Time (DIRFT), Zero Defects Day, Four Absolutes of Quality,
Prevention Process, Quality Vaccine, Six C's
The Absolutes of Quality Management :

The First Absolute:
The definition of quality is conformance to requirements
The Second Absolute:
The system of quality is prevention
The Third Absolute:
The performance standard is zero defects
The Final Absolute:
The measurement of quality is the price of non-conformance
Crosby's 14 Steps to Quality Improvement

1
Establish management commitment
2
Form the quality improvement team from representatives from each department.
3
Establish quality measurement throughout the company.
4
Evaluate the cost of quality.
5
Establish quality awareness amongst employees.
6
Corrective action.
7
Establish an ad hoc committee for the Zero Defects programs
8
Supervisor/employee training.
9
Hold a Zero Defects day to establish the new attitude.
10
Employee goal setting should take place, usually on a 30-, 60-, 90-day basis.
11
Error-cause-removal should be set up to follow the collection of problems.
12
Establish recognition of those who meet goals or perform outstandingly by (non-financial) award programs
13
Quality Councils composed of quality professionals and team chairpersons should meet regularly.
14
Do It All Over Again!
QUALITY VACCINE :

Integrity:
Quality must be taken seriously throughout the entire organization, from the highest levels to the lowest. The company's future will be judged by the quality it delivers.
Systems:
The right measures and systems are necessary for quality costs, performance, education, improvement, review, and customer satisfaction.
Communication:
Communication is a very important factor in an organization. It is required to communicate the specifications, requirements and improvement opportunities of the organization. Listening to customers and operatives intently and incorporating feedback will give the organization an edge over the competition.
Operations:
a culture of improvement should be the norm in any organization, and the process should be solid.
Policies:
policies that are implemented should be consistent and clear throughout the organization.
Six C's
Comprehension
The importance of understanding what is meant by quality
Commitment
The stage when top management establish a quality policy
Competence
Developing and education and training plan
Communication
All efforts must be documented and success stories published
Correction
Prevention and performance
Continuance
The process must become a way of life in the organization
References :
https://vanguard-method.net/library/quality/crosbys-14-steps-to-quality-improvement/
Three experts on quality management (TQLO publication No. 92-02, July 1992)
https://www.simplilearn.com/deming-vs-juran-vs-crosby-comparison-article
https://alchetron.com/Philip-B-Crosby-805996-W