"Intelligent Risk Taking (Pengambilan Resiko Secara Cerdas)"
Kata Resiko sudah familiar di telinga kita, baik di kehidupan sehari-hari maupun lingkup organisasi. Resiko dapat kita cegah, minimalisir, bahkan kita hindari. Namun apa dampaknya jika kita benar-benar menghindari resiko?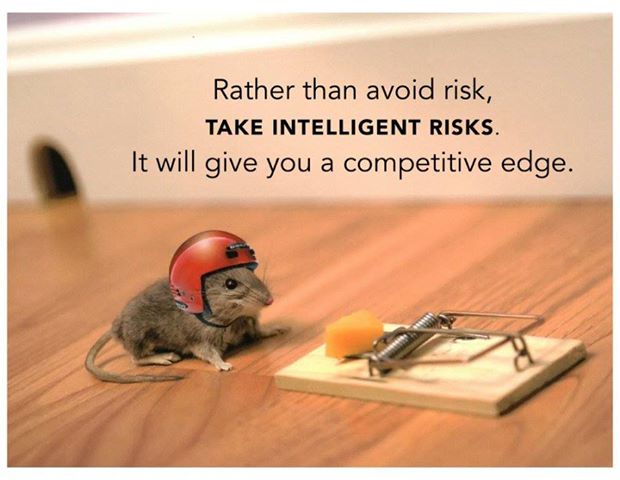 Dalam study, Charles Hampden Turner (Charting the Corporate Mind, New York: The Free Press, 1990, p. 17) Manager mengidentifikasi dua elemen penting untuk berinovasi : (1) Mendukung pengambilan resiko dan perubahan, dan (2) Mentolerir kesalahan. Pembelajaran yang didapat dari study tersebut bahwa mengecilkan peluang pengambilan resiko dan menghindari resiko juga berdampak pada penurunan atau berkurangnya kesempatan ber-Inovasi .(dikutip dari tulisan Dr. Harry Hertz).

Konsep "Intelligent Risk" menurut criteria Baldrige adalah Kesempatan atau peluang dibalik risiko dimana keuntungannya lebih besar dibanding  potensi kerugian yang diakibatkan dan jika perusahan tidak mengeksplorasi risiko tersebut maka akan berpengaruh pada  keberlangsungan hidup perusahaan".
Dr.Harry Hertz Menganalogikan pengambilan resiko cerdas seperti menyalakan api, jika kita menghindari api secara utuh, maka kita akan mendapati makanan yang dingin, rumah yang dingin, air pemandian yang dingin, Namun jika menggunakan api secara cerdas akan membuat kehidupan lebih baik dan nyaman. Sebaliknya jika kita menggunakan api secara ceroboh, maka akan membakar serta dapat menghilangkan asset kita.
Dengan mengidentifikasi Intelligent Risk secara tepat, organisasi diharapkan mampu memaksimalkan peluang strategis yang ada melalui pengembanganan Inovasi organisasi, sehingga dapat meningkatkan kinerja organisasi menuju kinerja yang Ekselen.
Sumber:
Baldrige Excellence Framework 2015 -2016
http://kinerjaunggul.com/intelligent-risk-taking-cerdas-mengambil-risiko/
http://www.nist.gov/baldrige/insights_1210.cfm
Photo Courtesy:
https://www.linkedin.com/pulse/you-taking-intelligent-risks-olivier-legrand
http://williamalexandersapon.blogspot.co.id/2015/02/intelligent-risk-taking.html